Some of my recent works for dance choreography / theatre;
The Big Game [A theatrical dance performance; Israel, Zimbabwe]
The Big Game "invites the audience to enter an absurd world composed of games which have been made up and are played out by four dancers on stage in real time. The various games expose the emotional world of the dancers and the power relations between them. 
As the performance is created in real time the rules of the choreographic game are exposed and the relationship between the performers and the audience is being challenged. The audience is invited to take part in the piece and influence the evolution of the game. 
The piece raises questions about the purpose of the game, who sets the rules and how these rules influence the interaction between the players, how far the players would go to achieve a desired outcome, and what happens if the rules are broken. It questions our sense of free choice and understanding of responsibility as players in our own personal and social games."
Performers | Credits

Concept,  choreography & directing: 
Sharona Florsheim 
Dancers & Creative partners: Yochai Ginaton, Keren Ben Altabet, Tamar Nevo,  Ady Elzam 
Music editor & live music: Eldar Baruch

Costume & stage design: Michal Kapelluto 

Performed at: Varda studio, Suzanne Dellal center Tel-Aviv.
http://sharonaflorsheim.com/works/the-big-game
 
המשחק הגדול; משחק בו החוקים והתוצאה נקבעים על הבמה בזמן אמת
שתי נשים ושני גברים יוצרים בניהם עולם אבסורדי המורכב ממשחקים. על הבמה, אל מול עיני הקהל, נוצרים חוקי משחק חדשים וספונטניים המובילים למפגשים בלתי צפויים, משעשעים ואינטימיים. המשחקים השונים חושפים את העולם הרגשי של הדמויות ואת יחסי הכוחות המתפתחים ביניהם תוך כדי המופע
העבודה חושפת את חוקי המשחק של תהליך היצירה הכוריאוגרפי כשהוא מתרחש בזמן אמת מול הקהל ובוחנת את  מערכת היחסים והציפיות בין היוצרים על הבמה ובין הצופים השותפים למשחק המכונה "הופעת מחול
קרדיטים
כוריאוגרפיה ובימוי: שרונה פלורסהיים
רקדנים שותפים ליצירה: יוחאי גינתון, עדי אלזם, קרן בן אלטבט, תמר נבו
עריכה מוסיקלית והלחנה: אלדר ברוך
עיצוב תלבושות וחלל: מיכל קפלוטו
Lost & found [A dance performance, Berlin]
Lost & Found
.
"
A dialog between two beings meeting in one space. Discovering in playfulness how identities are arising and how this affects the interaction and creates separation and tension . How does identity create boundaries and how do we push and cross those boundaries? Are we really lost without identity or do we get lost in our need to be someone, to create a character, a pattern to define ourselves versus the other. And when we truly observe this, we find ourselves suddenly in a deeper place that transcends the patterns, exposed in the naked reality.
"
Performers | Credits

Creation & Performance : Aya Mishkelboim & Sasha Pavic   
Composition and live music: Eldar Baruch  
Artistic Consultant: Matan Zamir
The work is supported by Theaterhous Berlin Mitte
http://www.thbm.foerderband.org/conpress/_rubric/index.php?rubric=Aktuelles
- Live @ Theaterhous Berlin Mitte.
-Live @ Eschloraque Rümschrümp.
Look In Progress [A dance performance, Berlin]
Look in Progress
"Height 
Empty spaces 
Below and above us 
Diagonal as a natural consequence of off-balance 
A curious and playful attitude which comes when you face an extreme reality as an open space. 
And then, you may find out that what is above and below and all around you, exists only when you look at it. 
Your look leads the vertigo."

Performers | Credits
Choreography and dancers: Sarah Kuster and Daniela Marcozzi. [NOW; Dani meets Sara] 
Original composition & live music: Eldar Baruch   
Text: fragment of "A confession" by Tolstoj.

-Live @ Greenhouse, Berlin [GOTTLIEB-DUNKEL FESTIVAL] https://www.facebook.com/GreenhouseBerlin 
-Live @ Theaterhaus Berlin Mitte
How to Ridicule Gravity - איך ללעוג לכוח הכבידה
How To Ridicule Gravity "is an interdisciplinary dance theater performance adapted, created and performed by Karolina Chojnacka and Joel Landshut. Original musical compositions by Eldar Baruch. The creation is based on the short stories written by a Tel Aviv - based by fiction writer and filmmaker Etgar Keret. "One of the most important writers alive" - Clive James: "When you say I love you very much, and your asthma's attack occurs, there is no time for palaver because instead of very you have to say call the ambulance...""
Performers | Credits

Adaptation, creation, performance – Karolina Chojnacka, Joel Landshut 
Production – Clipa Theater (Idit Herman, Dimitry Tyulpanov) 
Composition & sound design - Eldar Baruch 
Lighting design – Asi Gotesman 
Costume design - Inna Sokolovsky 
Premiere – 27.06.2013 Clipa Theater, Tel Aviv  
More information regarding our production & tickets sales: (+972) 036879219  
and by email: info@clipa.co.il
הופעת תיאטרון מחול חזותי ובין-תחומית, בביצוע קרולינה הוינצקה ויואל לנדסהוט. מוסיקה מקורית מאת אלדר ברוך -המבוססת על סיפורים קצרים מאת אתגר קרת. 
העיבוד שלנו עוקב אחר סיפורה של בחורה הנושאת "את כל חייה" בכיסי שמלתה. בניסיונה לחיות חיים יציבים, היא מוצאת עצמה נעה בין מציאות לדמיון. היא נשמרת על-ידי כוחות הטבע, שבסופו של דבר מעניקים לה ניצוץ של תקווה. היא נתקלת במישהו אשר מקבל את המוזרויות הקטנות שלה. הזמן חולף, ומערכת היחסים, אשר נראית כמתפקדת, מאוימת על ידי משבר. נואשות, היא מנסה להציל את עצמה - כדי להיות בלתי ניתנת להפרדה... אך, כמה זמן תוכל לאחוז במשאלתה היקרה? 
יוצרים:

עיבוד, יצירה, וביצוע - קרולינה הוינצקה ויואל לנדסהוט
הפקה - תיאטרון קליפה (בתמיכת מייסדי ומנהלי תיאטרון קליפה, עידית הרמן ודמיטרי טולפנוב) http://www.clipa.co.il
הלחנה ועיצוב פסקול - אלדר ברוך 
עיצוב תאורה – אסי גוטסמן
עיצוב תלבושות - אינה סוקולובסקי
צילום - ג'ואנה קוואלווסקה
בכורה – 27 ביוני 2013 - תיאטרון קליפה, תל אביב
Connectivity Practices - תרגילים בחיבור
Connectivity Practices
"
What is in the foundation of the prophecy?
A look into how that connection and our participation in it exist today. What is the connection between the spiritual and the physical world?
The Jerusalem Post's article (in English):  
http://www.jpost.com/Not-Just-News/The-prophet-385026
"Being danced is something very unique and very gratifying. Knowing that and experiencing that, I was very interested in what we have to do to be able to 'be danced.'" An original score by Eldar Baruch enhances the sense of tension and otherworldliness in Connectivity Practices.""
Performers | Credits
Choreography: Sharona Florsheim
Dancers and participants in the creation: Keren Ben Altabet, Tamar Nevo
Music, compositions and sound design: Eldar Baruch Costumes: Michal Capelluto and Rosalind Noctor
* With a support of Between Heaven and Hell Festival  
היצירה "תרגילים בחיבור" בוחנת פרקטיקות שונות של יצירת קשר המתהווה בזמן אמת ואת המושג טקס בתוך הקשר של פעולה בימתית. הגוף הוא המקום אשר בו מתרחש הטקס ודרכו הוא מקבל ממשות ונוכחות. באמצעות תרגול של פעולה פיזית קונקרטית ומוגדרת נוצר מרחב לתפילה של הגוף. לאורך היצירה הרקדניות נעות במרחב הפיזי והתודעתי המתקיים בין פעולה אקטיבית של הגוף ובין יצירת חלל פנוי, אשר בו מתרחשת היפעלות של הגוף. מרחב חוויה הנע בין היותן רוקדות את הריקוד להיותן נרקדות על ידו
כוריאוגרפיה: שרונה פלורסהיים
רקדניות ושותפות ליצירה: קרן בן אלטבט, תמר נבו
עיצוב סאונד ונגינה חיה: אלדר ברוך
עיצוב תלבושות: מיכל קפלוטו, רוזלינד נוקטור
צילום: עדי עופר
היצירה נוצרה בתמיכת פסטיבל בין שמים לארץ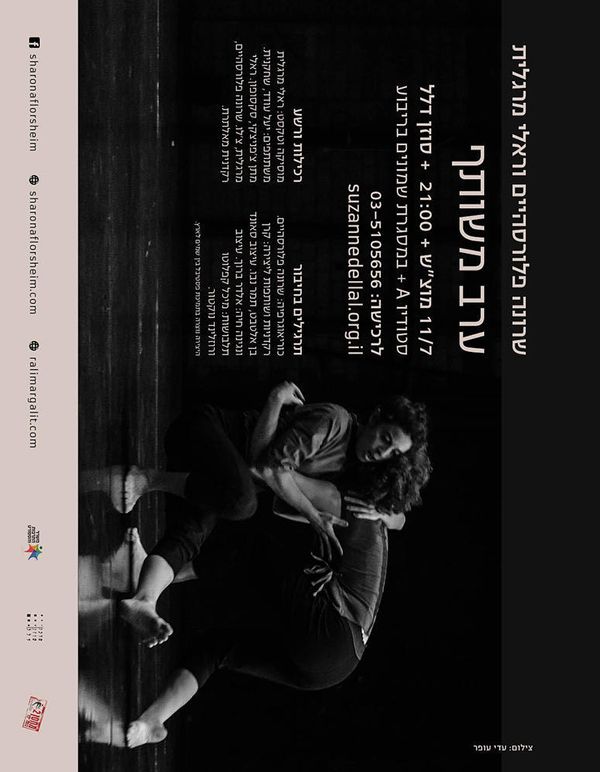 Love, Poverty & War [a dance performance, Berlin]
Love, Poverty and War "Focuses on the experiences and memories of Holocaust survivors and WWII Forced laborers by exploring dance as a vehicle for expressing memory. It bridges the past to the present with the unique viewpoints of its Israeli, French and German cast of 3rd and 4th generation of survivors, who share how it shapes their identity today. The piece is based on the movement research project Unearthing Our Forbears by choreographer and director Meredith Nadler."

Performers | Credits
Direction/choreography: Meredith Nadler
Composition/ Live Music: Eldar Baruch 
Created and performed by: Aviram Sa'ar, Shir Eviatar, Gal Yerushalmi, Ayala Bessler-Nardi, Joel Sitbon, Yuli Kovbasnian 
Video: November Hirsch 
A production by Meredith Nadler, funded by Interkulturelle Projektförderung des Landes Berlin and the embassy of Israel.